Hillbilly Jim is now in his second year as the host of Hillbilly Jim's Moonshine Matinee on Sirius Satellite Radio (Outlaw Country 63). Hillbilly Jim records many of his shows at the Sirius Studios in Nashville TN, which is then broadcast around the world to many countries every Saturday and Sunday.
Hillbilly plays KY Blues affiliated artists around the world, including Willie Smith and the Fender Benders, The Mighty Jeremiahs, The Kentucky Headhunters, Mem Shannon, Chris Cain and Joey Gilmore. Plus all the great Outlaw Country artists.
As these pictures show, Hillbilly picks up his guitar and plays some fine Kentucky Blues Live, also.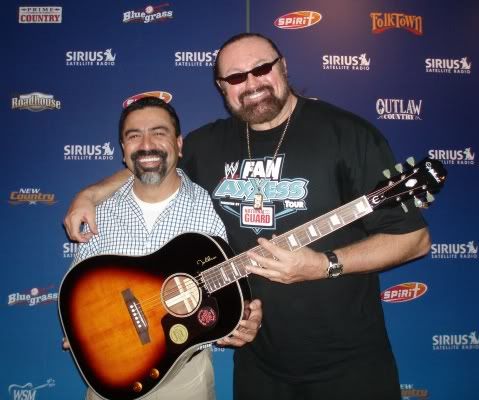 Hillbilly's Joey pics
Hillbilly's portraits of Mem and KY Blues members
Hillbilly's pics of Chris Cain in St. Louis
Hillbilly's WWE Fan Axxess pics
Back to Picture index